Violence, Aggression & Responsive Behaviours Toolkit
Validated, Consensus-Based Resources for Workplace Violence Prevention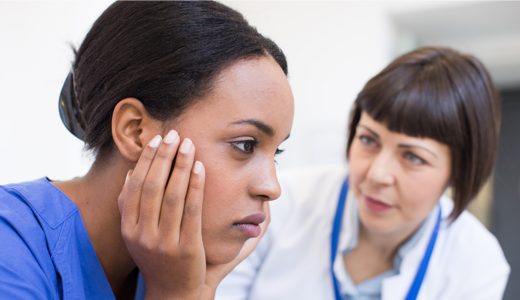 These toolkits were designed for use in hospitals, long-term care, home and community care and emergency medical services to protect those workers most at risk of workplace violence, including nurses, nurses' aids, other allied healthcare staff, community and social service workers, and visiting home care workers.
Each tool provides a simple step-by-step implementation process, customizable elements and a variety of support materials to enable robust workplace violence prevention program planning and implementation that meets the unique needs of your workplace.
Organizations with existing workplace violence prevention programs can also use these tools to evaluate and/or enhance program components. The tools can be implemented individually or as a whole, and are being used most often to identify and address safety risks, consider safety proactively in planning (i.e. new builds, units or programs), and validate or improve existing practices.
According to a recent evidence-based evaluation, few resources and guidelines have achieved the kind of uptake and impact as the VARB toolkit. The tools are having a positive impact on how healthcare organizations prevent and manage workplace violence, with 89% reporting that use of the tools improved their processes, programs and systems related to workplace violence prevention and management.
The Tools
---
Access the toolkits below to begin enhancing your workplace violence prevention and management processes.
Coming Soon
---
The following tools are under development.
Additional Resources
---
The following resources were developed by the Ontario Ministry of Labour, Training and Skills Development (MLTSD) to support healthcare workplaces with workplace violence prevention.
Background
---
The initial five priority tools were developed through a consensus-based process with a multi-stakeholder steering committee and working groups.
If your organization's workplace violence committee or Joint Health and Safety Committee is recommending enhancements to your current program, it would be beneficial to review the 5-step process in addition to implementing these tools.
"The tools helped us to identify risk and develop an action plan. The categories were helpful in educating our staff on the risk of violence and things to look for, as well as potential solutions. These have been helpful in putting recommendations forward for change and we have seen several positive changes as a result of using these tools."
"We have been able to reduce our risk levels by better preparing our staff to watch out for and address these aggressive behaviours, such as with training, patient flagging and alerts. So, although the frequency of violent attempts or incidents has not decreased as of yet, we have seen the severity of violent incidents reduced."
"Our organization decided to apply these tools as we saw our incidents of violence on the rise and we wanted to have a better grasp on what our gaps were so that we could reduce these incidents in frequency and severity." 
"The Ministry of Labour made this a priority focus. They performed several inspections using PSHSA's tools. Using these tools helped us to be well-prepared for these visits and allowed us to have a better organized plan, response and documented strategy to reduce violence in the workplace."